Apparently a blog other than my livejournal may have not been a good idea. I'm not going to make any promises, but I'll definitely try to update this one more. I've discovered that even though I can't wear every look (skinny jeans and size 12 hips don't mix very well), I can fangirl about them. And perhaps one day I'll whittle my way down a bit.
Back to the fashion. I know this is hella late, and that the Proenza Schouler line at Target was announced months ago, and I've already looked at the promo photos, but February 4 is getting closer. I've been remembering what it is I really liked about
the collection
.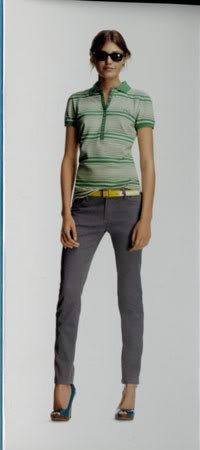 That yellow skinny belt is amazing.
Layering is love. I haven't been able to pull of the Mary-Kate Olson-style layering yet, but this simple kind is just delightful.
And the colors! Oh, the colors. I'm so glad that big, bold colors are being tossed around now. (Photos from the Jane blog.)
Basically, for Spring I want a yellow skinny belt and my old figure back. Hah.