Through a variety of sources, including the August "Lucky" and
this post
at Our Wishful Wardrobe, I have been toying with the idea of a purple dress for fall. I love the styling on the Lucky cover--the purple and gray is just the right balance of luxe and casual. The biggest thing with a purple dress, I think, is getting the color right--it can't be too light (looks pink) or too dark (looks blue).
Of all the purple dresses I've dug up (there aren't many), these are some of my favorites. The first two are from
Forever21
, so are well within my price range. The first is a cute style, good to wear for everyday, but the color is just a little bit dull. The second is a little odd style-wise, but the color is absolutely gorgeous.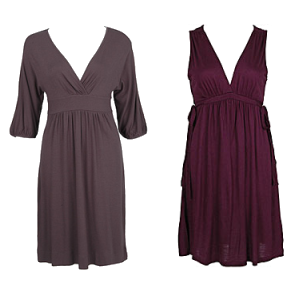 These second two are from
Net-A-Porter
and are consequently way out of my price range, but are fun to drool over anyway. I love the sparkly detailing on the one on the right.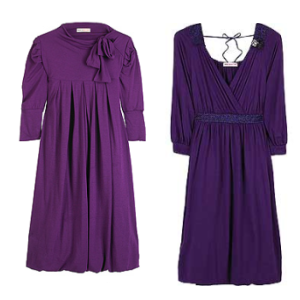 And then there's this awesome French Connection dress from Nordstrom.com, which is just expensive enough to be out of my range, but cheap enough to tempt. It's bright and shiny and everything you could want from a purple dress (except maybe some pin-tucks).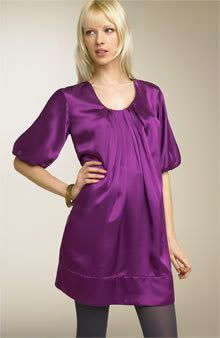 So, perhaps this fall if I am feeling blue, I will turn myself purple and go find a brilliant purple dress.