Perhaps one of the most amusing fashion phenomena at the moment is the designer ripoff. While it comes in handy for people like me (read: poor college student) when we want to have a wardrobe that is stylish in a way we cannot afford, ripoffs are generally obvious to spot, and consequently make the wearer look ridiculous (to me, at least). I have friends at school with "Prada" bags...and I can't for the life of me figure out where any of them could find the money. It may be that the label copying is more irksome than an actual "designer inspired" piece with no label.
Take these shoes, from Chloe. They're gorgeous, kind of a cross between the ballet flat and the gladiator sandal--chic without sacrificing comfort or some measure of practicality. Had I skinny, beautiful ankles, I would covet these in a second.

Thaks to Hipster Musings for the photo.
These are not the kind of shoes that I would think would inspire copying. They're very distinctive (unlike the peep-toe Louboutins that were copied so quickly you couldn't tell as much) and they don't seem like they would appeal to the general public like flashy heels would. But here is a coply, nearly identical except for the positioning of the straps, from
Anthropologie
.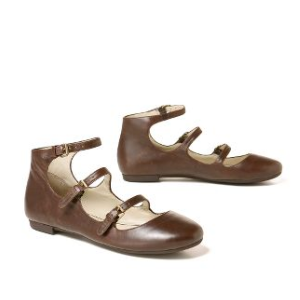 They're the "Jigs and Reels" ballerinas, only $88. Excellent, no?