Yesterday, I made a trip to IKEA. Normally, I'll just log on to the site and drool over all the great design and feel inspired. Since ikea.com isn't shipping anymore, I can't buy anything. So I sit and pine. (And wish I had more money.)
Naturally, I had some thing I needed to purchase to make my room a more organized place next year. (It's one of my goals: to have a place for everything, and try to keep my room semi-clean.) Lately I've been buying fashion magazines (perhaps too many), and they've been piling up on my floor, so I bought these lovely magazine holders. They were really cheap (like $3 for 5). I'm not sure if I should leave them white or paint them different colors, or maybe spray paint them in lacy designs.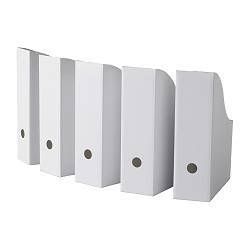 I've also wanted one of these guys for a while. I'm not an artiste, but I enjoy drawing occasionally, or painting, and a human body figure could come in handy. And it just looks cool, like a mini-sculpture.
I made some impulse buys on the way out, mainly in the form of wrapping paper. I don't think that's such a bad thing, because I don't really have any wrapping paper to my name. This wrapping paper, however, is tiger print. It's seriously amazing.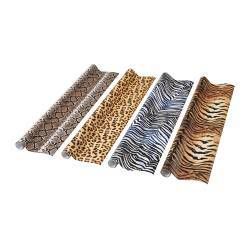 Also, I bought twelve stacking round boxes, all different rainbow colors. My mom and I both bought some reusable bags made out of this really tough woven stuff. They're striped like referee uniforms (so they make me laugh), and they'll be extremely visible/obnoxious when I take mine out for grocery shopping. Yay for being good to the environment.
As for today's outfit, there was a wedding on the schedule. A cowboy wedding. But I found myself doing 50s Garden Party Redux.
» Green print 50s-looking dress.
» Red mini-wedge flats.
» Silver clutch.
» Old costume jewelry necklace.
» Red lipstick.
Most of my relatives thought I looked really cute, and I thought so too. I felt good, except when my dress gapped open at the top (which was often), so I need to sew it together or something. And next time I might bring along a sweater just in case I go do something else, like the movies.
In other news, I still feel like wearing something supremely tacky.