First off, outfit for the day (which included moving, washing blinds, scrubbing stove stains, etc):
» Decemberists Tee Shirt.
» Off-white bermuda shorts.
» Green chucks.
» A nice black baguette purse that didn't go at all. Oh well.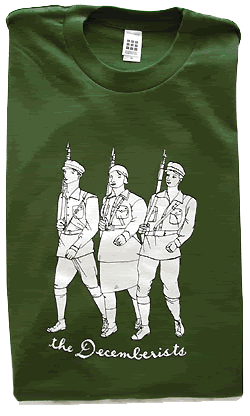 Since I'm moving, I've been thinking of how I want to decorate (gah, that word sounds so Laura Ashley) my new bedroom. It's slightly smaller than my old one, but with a bigger closet and some extra storage. The closet has some nasty pastel floral curtains instead of doors, so I'm definitely going to make some new curtains, probably out of sheets.
I'm kinda going for a kind of IKEA-ish Scandinavian vibe, with white walls (so I don't have to argue with my landlord about wall color), light wood and occasional shots of superbright color (just so I don't go insane). I'm thinking really predominant wood, black and white, with color as an accent. Now this is starting to look all planned out and matchy, and one thing I can't stand in overly-decorated houses is the matchy-matchy look, so when you actually live in the house (and by that I mean mess it up and get your crap everywhere when you don't have time to clean), it looks horrible.
But I suppose that goes with my main goal for this year (barring getting accepted into grad school, of course), of keeping my living spaces clean. I'm going to spend this summer working on my room, so that everything has a place to live by the time school starts and I stop living with my parents.
Anyway, I had a point to this part of the post. Whilst at IKEA, my mom and I spotted some nifty wall decals, in a scrolly-swirly pattern, black on white. It looked stunning, bold, graphic, but slightly organic at the same time--kinda my style. When we reached the home decor section, they were nowhere to be found. There were some cool oversized poppies, but they were overpriced as well.
But not to worry! I found
blick
! Only moderately-priced wall decals, of very special design quality. Unfortunately, the site is flash-based, so I can't steal any pictures right now. I really like the birds, and the chandeliers (because I can't afford a real one).
Come to think of it, I suppose this blog could document my quest for organization (and if you saw my room last year, you'd know I need it) and style in my bedroom as well as my clothes. Fun!