» Jeans
» Gladiator Sandals
» Green tank
» Black flowy top
» Dangly heart earrings
» Cool blue rubber bracelet that my brother brought back from a bag of chips in Italy
Basically I went shopping. The sandals were not such a great idea, because they weren't very supportive, and my feets started hurting pretty quickly, especially at IKEA.
I did get two new tops at Forever 21. I had to stop there, because there's not one in my town, and I hate buying things over the internet that I'm not sure will fit. About halfway into my search through the store, I was overwhelmed by an urge to get something supremely tacky. I suppose all the really horrible "modern boho" stuff didn't help that urge, nor did the House of Holland ripoffs. I was tempted to go for something really striped and obnoxious, but I settled for this skankalicious shirt instead.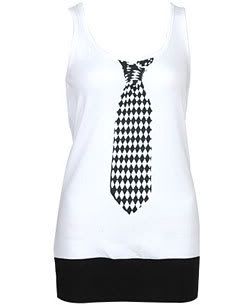 I'll wear it to camp with my skanking shoes (green chucks with checkerboard laces, which I have to wear to ska shows), and 'twill be grand. Perhaps I can find an awesome neon hat at a thrift store this week.